Co-creating a unique & hybrid visitor experience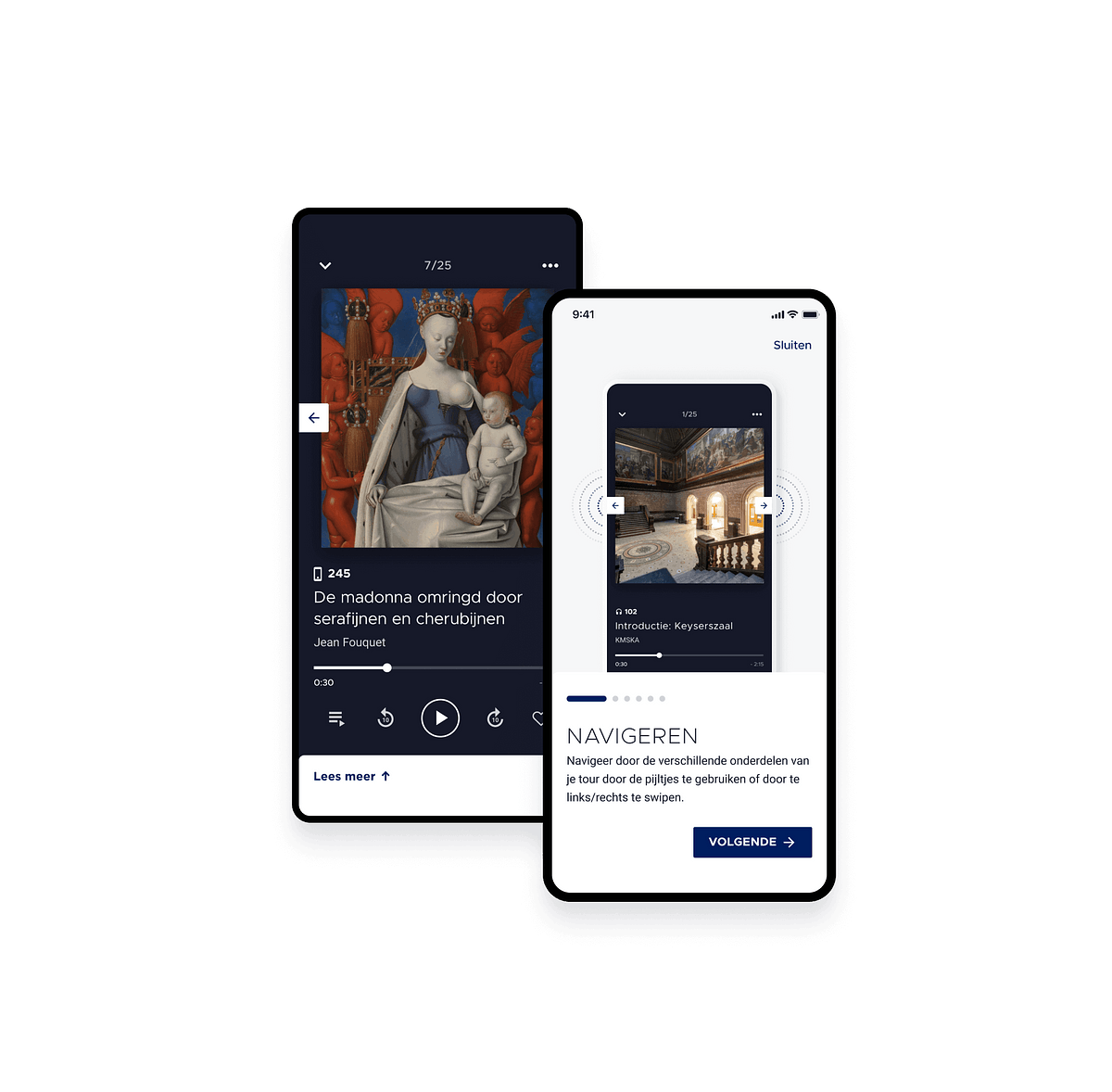 Co-creating a unique & hybrid visitor experience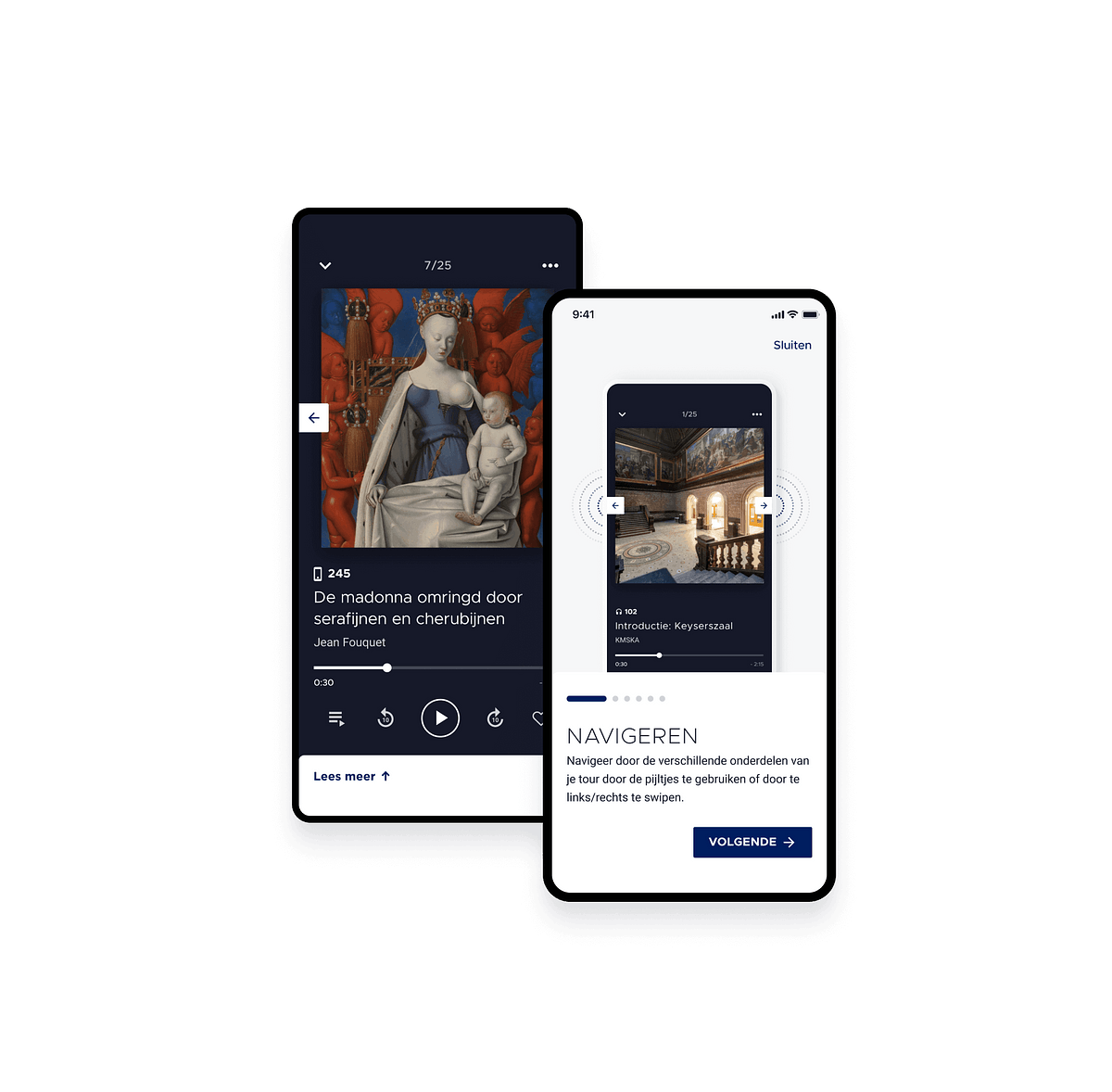 Context
KMSKA (Koninklijk Museum voor Schone Kunsten Antwerpen), also known as the Royal Museum of Fine Arts Antwerp, is one of Belgium's largest and most renowned museums. Having closed its doors back in 2011 to undergo a huge renovation project, KMSKA is finally ready to open up again in September 2022.

KMSKA first approached us in 2017 as it wanted to reimagine its customer experience. Specifically, it wanted to blend digital and physical touchpoints to bring the museum's stunning collection to life for all visitors—no matter their age, language, or level of knowledge.

Exploring the visitors' perspectives
First, we conducted an extensive survey and set up several focus groups to understand who KMSKA's visitors were and what they expected from the museum. The answers were incredibly revealing and wide-ranging—KMSKA has a diverse audience with different wants and needs.

We used these insights to create a detailed set of personas before defining each of their customer journeys, mapping out all relevant touchpoints, and identifying where we could reduce friction to make their experience more enjoyable.

Digging into the details
Our survey and focus groups revealed the broad brushstrokes of what visitors wanted when visiting KMSKA. However, to dig into the details, we also questioned a group of 100 fixed test subjects (known as "de schoonste 100") who represented a perfect cross-section of the museum's audience.

These enthusiastic testers acted as guinea pigs, providing us with invaluable feedback on all elements of the customer experience: the website, app, and even the physical flows as people walked around the museum. Which pieces of marketing made them want to visit KMSKA? How could the ticket buying process be improved? Was it easy to find the museum and find the right exhibitions once inside?

Discover everything you need to know about KMSKA: exhibitions, collections, prices, opening hours, and more.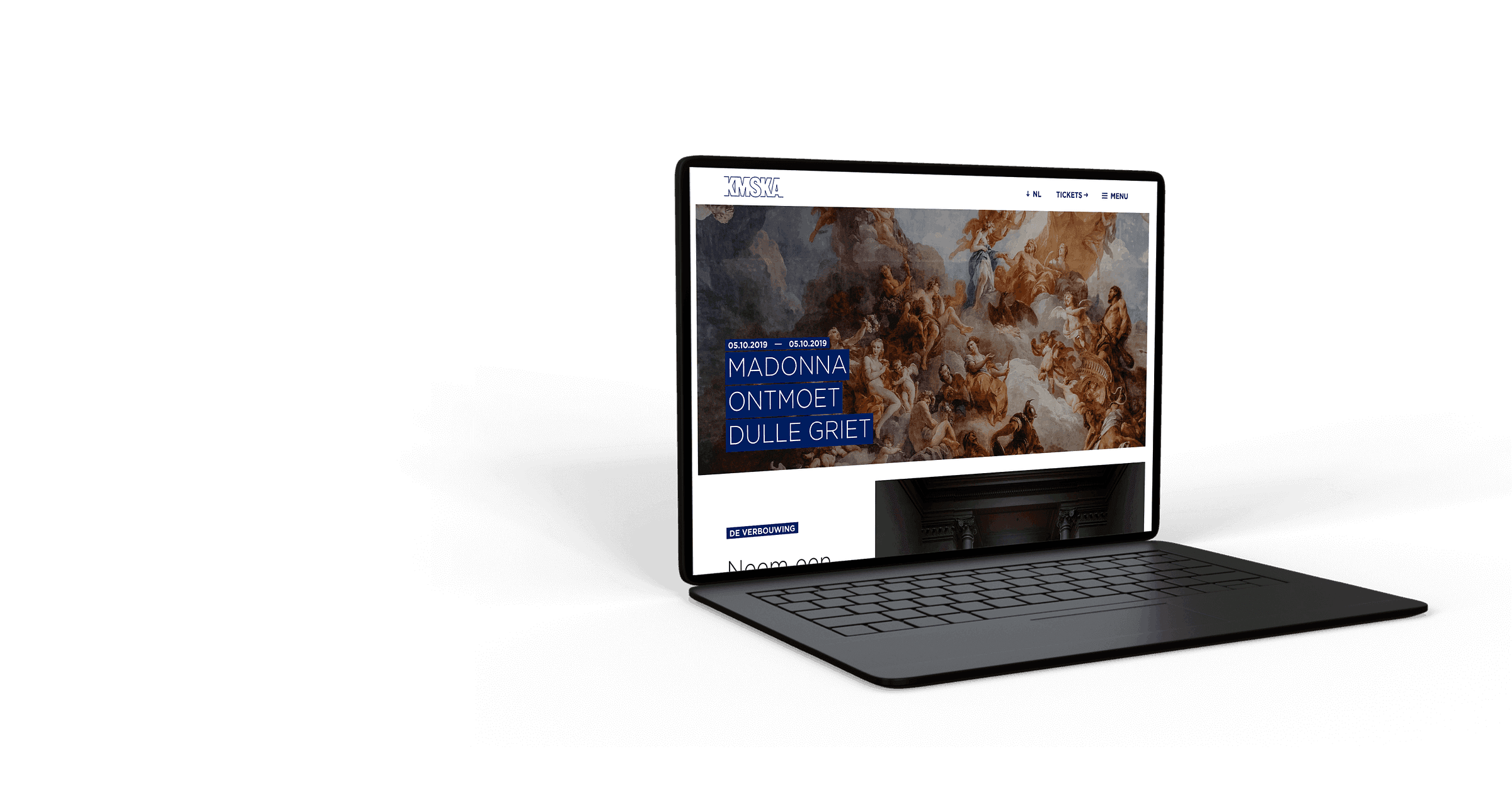 Discover everything you need to know about KMSKA: exhibitions, collections, prices, opening hours, and more.
Showcasing KMSKA's capabilities online
De schoonste 100's insights were crucial. They helped us figure out what worked, what didn't, and identify where we could improve the customer experience. Next, we had to take action.

We began by translating visitors' needs into a robust information architecture, creating a well-defined infrastructure to enhance the website's usability. However, functionality alone wouldn't cut it—we realised that the website also needed to capture KMSKA's unique look and feel. Our designers set to work, using their creative flair to produce a stunning website that captures KMSKA's breathtaking architecture and unique essence. This new website offers the best of both worlds: must-know information at users' fingertips backed up by an unforgettable browsing experience.

Creating a mobile app to enhance the in-person experience
Optimising KMSKA's online presence was just the first step. Once visitors had bought a ticket, we then needed to ensure the in-person experience didn't disappoint. We started by defining the museum's typical visitor flows and understanding how different personas interacted with KMSKA's collection as they made their way around the museum.

We quickly realised there was a problem. While KMSKA had text-based descriptions beside each piece, not every visitor wanted to read, could read, or enjoyed waiting for the person in front of them to move. Therefore, we decided to create a custom mobile app that offers auditive explanations about the artwork in multiple languages, acting as a personal tour guide, and provides practical information, such as where to find the gift shop or the nearest toilet.

The app was built from the ground up, using intuitive design patterns that every visitor (from the very young to the very old) could easily understand. It's fully accessible and has its own sign language option for hard of hearing or deaf visitors.

Bring your visit to KMSKA to life, learning more about the collection, the artists behind these fantastic pieces of work, and the museum itself.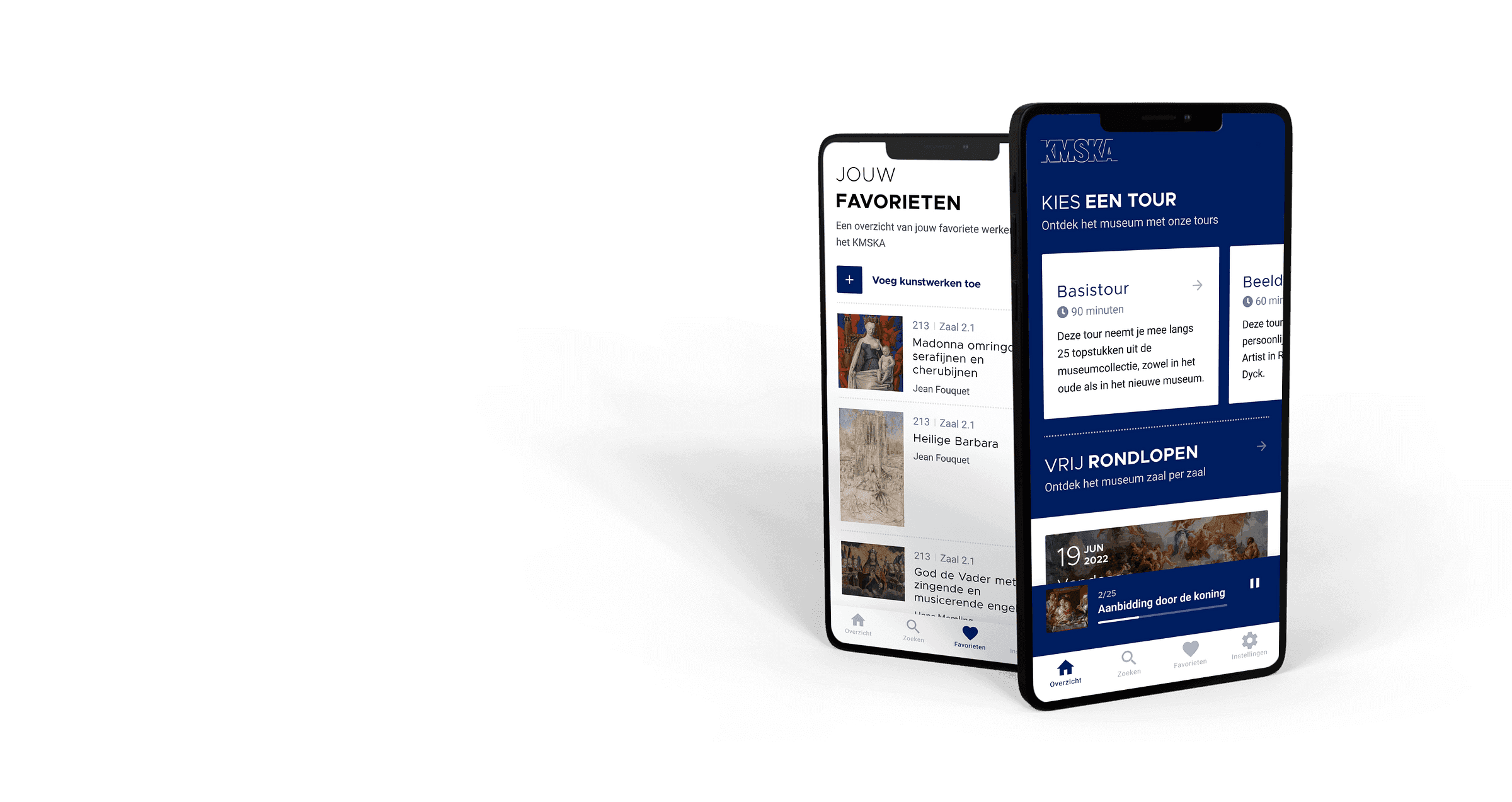 Bring your visit to KMSKA to life, learning more about the collection, the artists behind these fantastic pieces of work, and the museum itself.
Tying it all together
Despite its utility, not all visitors want to download an app, or be glued to their phones while they wander around the museum—so we needed another way to ensure the right information was displayed at the right time. Fortunately, our well-defined visitor flows meant we knew exactly who needed to know what, when. We took these insights and built a custom single-page app, powered by the same content management system (CMS) as the mobile app, which KMSKA could display across 10 screens throughout the museum.

The app displays a wealth of practical information about the museum, current exhibitions, upcoming events, onboarding assistance, and tips about the mobile application. Thanks to the flexible CMS which powers everything from a single source of truth, KMSKA staff have complete control over the information that's displayed throughout the museum.

Don't take our word for it.
Thanks to Leap Forward, a visit to KMSKA is richer, more informative and more accessible for every visitor. Moreover, we now have the tools to keep evaluating and improving our visitor experience.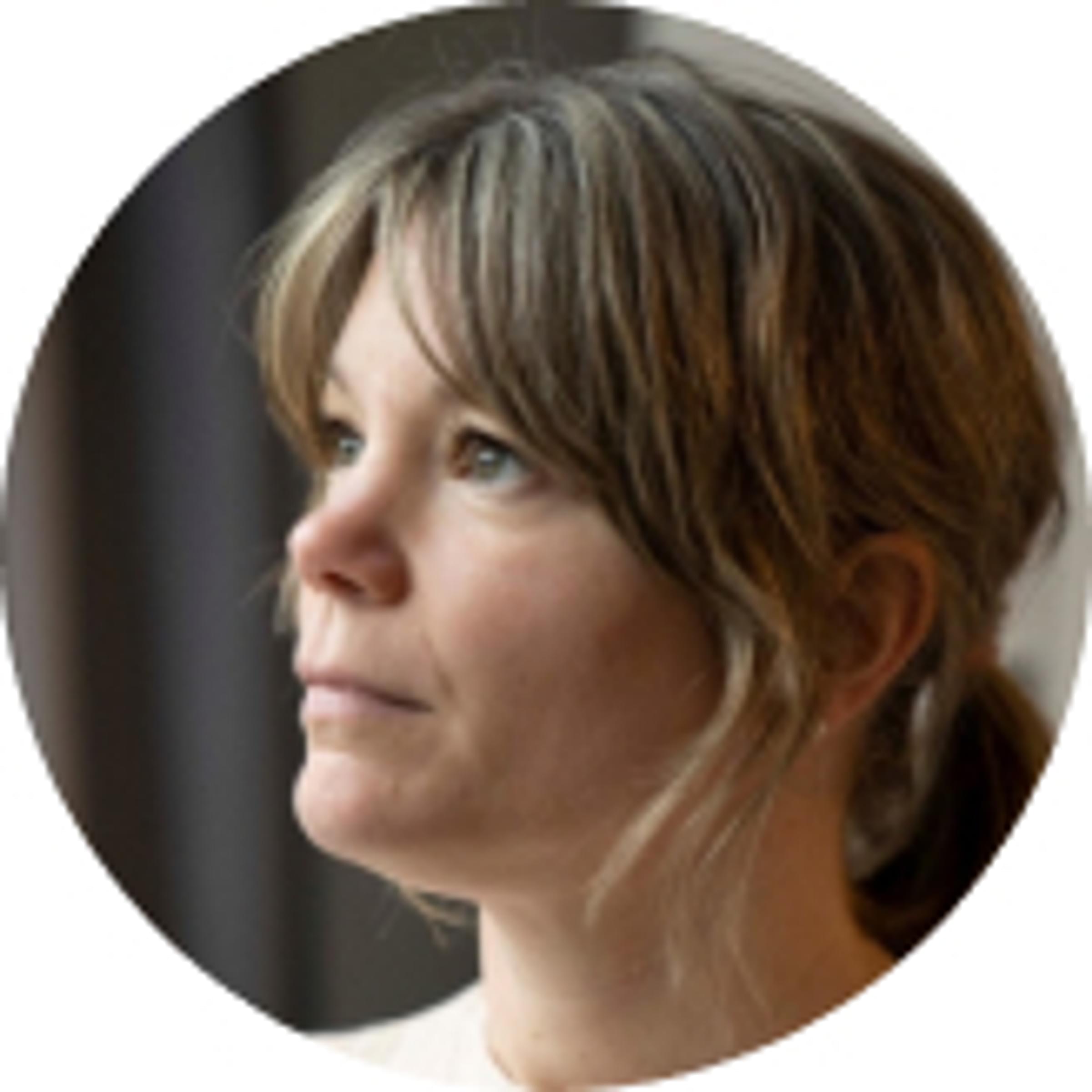 Birgit Pluvier
Head of Marketing & Communications, KMSKA