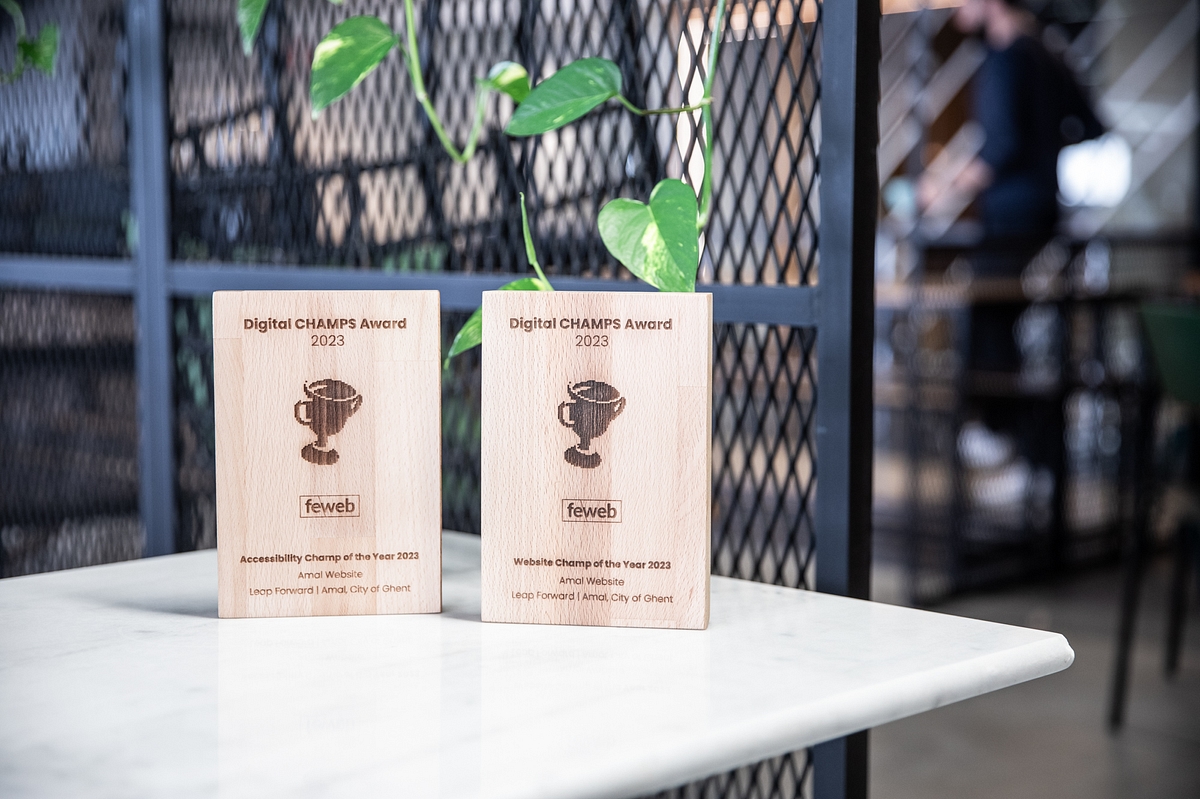 Celebrating a double victory at the Digital Champs & Impact Awards 2023
We're thrilled to announce we were presented two awards at the prestigious Digital Champs & Impact Awards 2023 by FeWeb.

The event, organised by the digital professionals & agencies federation FeWeb, celebrates the most impactful digital projects, recognizing the efforts of companies and individuals making a significant difference in the digital landscape for organisations, end users or society as a whole.
Text block
Leap Forward and Amal secured two coveted awards at the ceremony for our collaboration on Amal.gent. The Amal website was honoured with the Website Champ of the Year and Accessibility Champ of the Year awards. The website, designed to welcome newcomers in the city of Gent, impressed the jury with its 100% score for automatic accessibility checks, as well as its intuitive and coherent user experience.
"Amal.gent is so much more than just a simple informative website," says Wouter Vandersyppe: "we built a portal that unlocks all the information newcomers or international citizens in Ghent might need. We focused on the end users and listened to their needs. This approach of focusing on people is extended throughout the entire organisation and communication of Amal."
Accessibility First
The judges praised the Amal website for its intuitiveness and coherence, noting it sets an example for other websites in terms of accessibility. The use of best practices such as good contrasts for visually impaired visitors, interactions without a mouse for visitors without arm movement and a proper experience for blind visitors were seen as a big plus by the jury.
Wouter Vandersyppe: "It's gratifying to see our Accessibility First approach recognized. The awards validate our commitment to creating user-centric digital solutions that make a positive impact on society."

The Digital Champs & Impact Awards, hosted by FeWeb, serve as a benchmark for digital expertise in development, e-commerce, and digital marketing. The event brought together over 200 digital professionals, showcasing the best and most innovative projects in the industry.