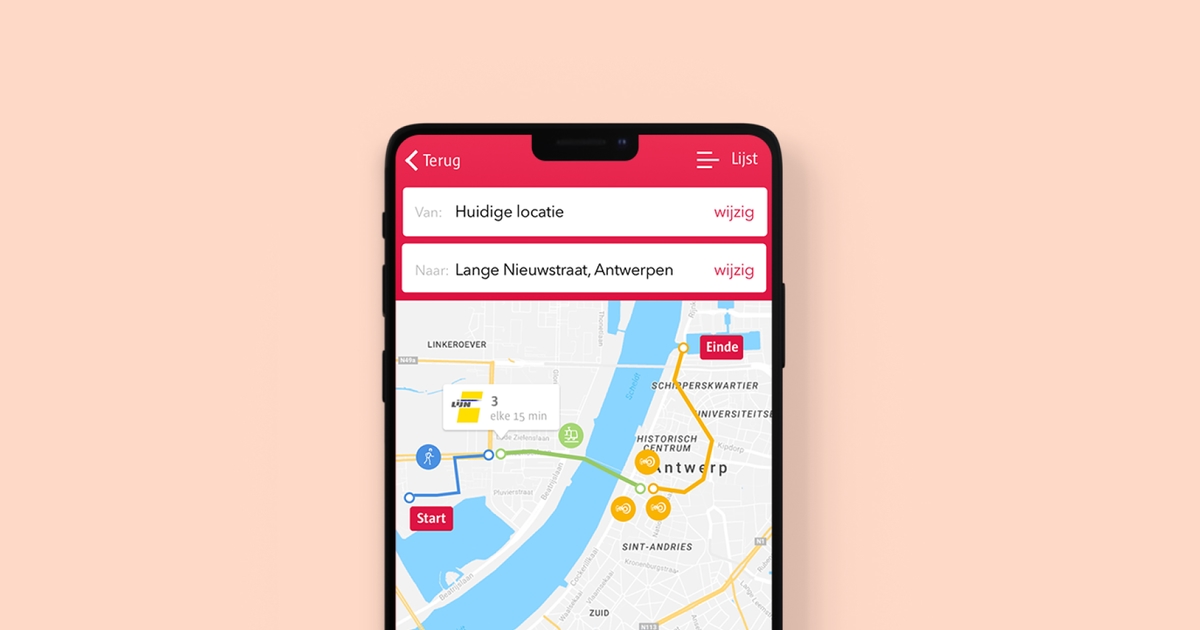 2 minute read - by Hans Bosmans
Slim naar Antwerpen wins the Digital Product Award 2021
Text block
The Henry van de Velde Awards are the biggest design awards in Belgium. So we are honoured to win their Digital Product Award and are still in the running for a Public Choice Award. Vote here!

The Digital Product Award goes to a new or improved digital product where design was used strategically. Smart to Antwerp was launched by the city of Antwerp with the help from Leap Forward. The newly added multimodal route planner and integrated smart mobility map (which contains realtime information) aim to facilitate the mobility puzzle of Antwerp's citizens.

The challenge
Antwerp set itself a clear goal with the Master Plan, which states that by 2020 half of all journeys in Greater Antwerp must be made by public transport, on foot or by bike. When various faster and more efficient modes of transport are available, people use the car less to travel. That's why this 'Slim Naar Antwerpen' campaign focuses in its website, application and route planner on combining car traffic, public transport, safe bicycle networks and waterborne transport.
The city of Antwerp took up the challenge of developing an accessible platform with design agency Leap Forward, because of our expertise in user research and UX analysis.
A human-centered approach
We set up user tests in which they let residents of the city explore the current website. To get to know the citizen's perspective even better, we took to the streets of Antwerp to question people live. We converted the conclusions from this user research into a user-friendly, meaningful information architecture for the website, which was then tested and improved again by a diversity of target groups.
The mobile application keeps users up to date anytime and anywhere thanks to real-time information presented in a very accessible way. The route planner is the first in the world to suggest a smart combination of all available modes of transport. As a result, the Smart to Antwerp platform is considered as best practice in the most prominent European cities.
Just like the city, the platform is constantly evolving. That is why the employees of the City of Antwerp have been trained so that they are able to work completely independently with the new content that has to appear on the website. In this way, they can always inform the inhabitants of the roadworks or changes on their way to Antwerp

Read the full case at: A better citizen experience for the city of Antwerp